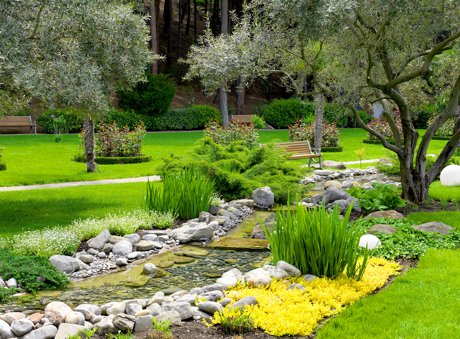 Meander peaceful paths around Glencoe property. The Chicago Botanic Garden overflows with acres of living beauty. Flora and fauna bloom gloriously in a picturesque setting spanning over 350 acres including lake shorelines. With a moto of Urbs in Horto or "city in a garden" this is the perfect place to unwind in and take a break from the busyness of life.
Imagination and creativity are around every turn in the 27 gardens filling the landscape. Travel to exotic lands without ever leaving Glencoe. The Elizabeth Hubert Malott Japanese Garden steals your breath when entering. Ripe with tradition and culture, lines are sleek and sophisticated. Nearby, a statue of a friendly lion guards the English Walled Garden. Oozing charm the garden beckons those seeking quiet moments. Enter through the colorful gate into the British courtyard complete with brick accents. Themed areas inside include the Cottage Garden, Pergola Garden and English Walled Garden.
Children from Glencoe Homes Dig in and Enjoy Nature
When wandering in the Native Plant Garden residents become inspired, learning what to plant in their own backyard spaces. Youngsters freely romp about the Grunsfeld Children's Growing Garden. Here kids happily engage in educational programs including hands-on gardening, camps and clinics. Special events often light up the Glencoe property. Featured events include Summer Evenings, Night of the 1,000 Jack-o'-lanterns, Wonderland Express and Orchid Shows. Seasonal events, flower shows and private happenings mark the calendar as well.
Complimentary walking tours are great for exploring the grounds. Experts lead the way sharing their love for the plants, flowers and architectural wonder that encompasses the gardens. Stops include Butterflies and Blooms, the Children's Growing Garden, Esplanade, the Fruit and Vegetable Garden and more. Bird watchers are especially eager to explore as an abundance of feathered friends make this their Glencoe home. Many check the species list to see how many they can spot. Admission is free to the public but there is a fee for parking. Plan a trip today.